Contact Us
MFS CO.,LTD
Address: No.108,Dainan Science Park,
Taizhou City,Jiangsu Province,China
Tel : +86 (0523) 83799367
Fax : +86 (0523) 83799481
E-mail : info@marblefixings.com
Web : www.marblefixings.com

Stone Fixing System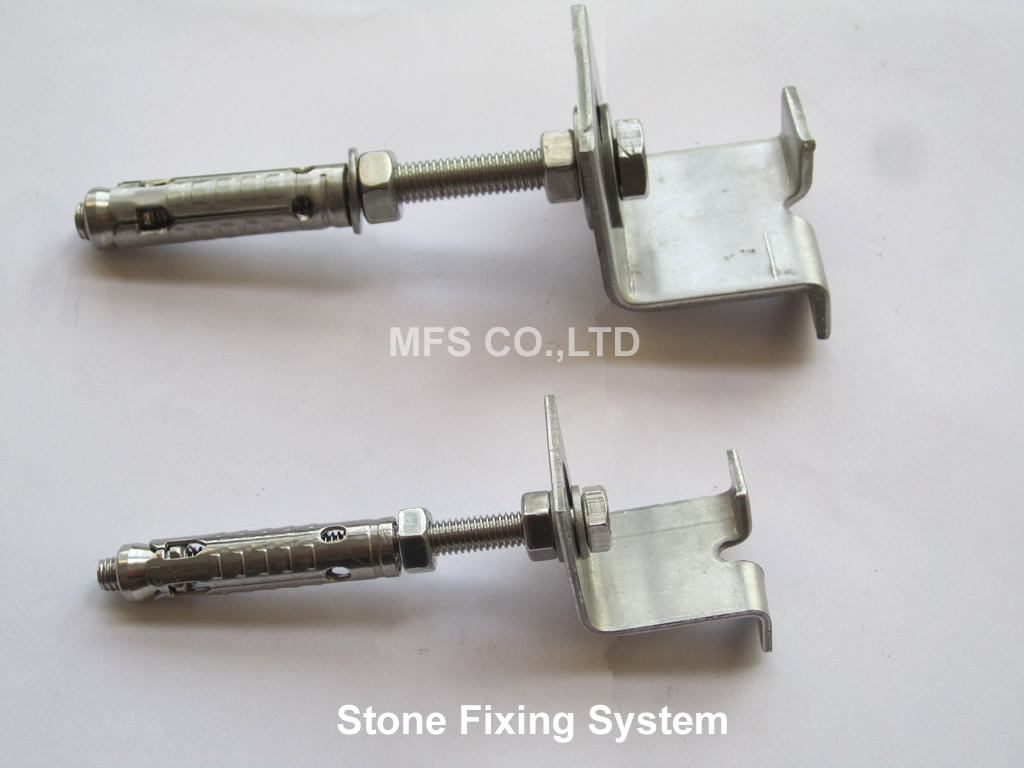 Stainless Steel 304 316 MFS Natural Stone Fixing System,Cladding Fixing Systems
This Stone Fixing System is always used in Mideast,it is used in fixing not heavy stone or marble.It contains Up&Down Angle(25*30*30*2),Hex Bolt(M6*80,M8*100),Nut,MFS Washer,4pcs Shield Anchor(TAM ANCHOR).The material is INOX AISI304-A2/AISI316-A4
S/S Up&Down Angle Fixing
S/S Mechanical mfs fixing system Grade 304&316.Available also in any size upon request
1. 25(W)*30(H)*30(L)*2(TH)mm
2. 30(W)*30(H)*30(L)*3(TH)mm
3. 35(W)*35(H)*35(L)*3(TH)mm
3. 40(W)*40(H)*40(L)*3(TH)mm
The Stone Fixing System is a small angle bracket available in a large veriety of sizes which encompass a wide range of loading requirements. It is very useful in situation where smaller load carrying capacities are required.
*Suitable for concrete walls.
*Slabs have slits and the kerf parts of the anchors are inserted into the slit edges of the slabs.
*Adjustability for projection size can be done by inserting shims between the anchor and the wall.
*Anchors act as load bearing and restraint,carrying the slabs above and restraining the slabs below.
Xinghua Marble Fixing System Co.,Ltd is professional in producing Stone Fixing System since 1995,and our Stone Fixing Systems are exported to Korea,Mideast,Europ and America.If you need more details,please connect us.